Fun nature science + art idea for kids: how to make a cool car painting, using mushroom spore prints for wheels, and learn about mushroom biology!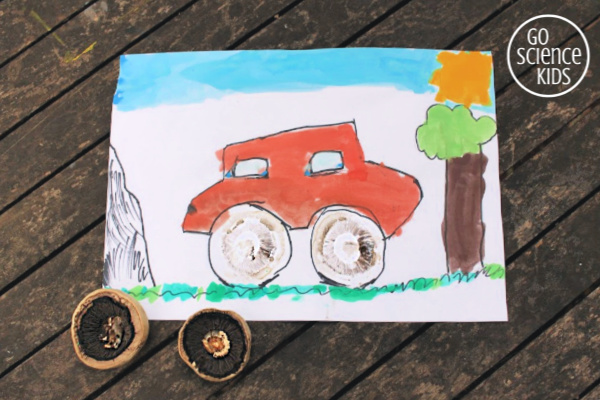 Ever since we first tried making mushroom spore prints, we've been dreaming up fun ideas to incorporate spore printing into art or craft activities. Our mushroom monkeys were our first idea, and this mushroom spore print car painting is our second – and I think it turned out quite well!

How to create a mushroom spore print car artwork
*Note: affiliate links to similar products included below
We used:
Note: fresh mushrooms will create the best spore prints.

What to do
Here is a video tutorial that my 7.5 year old daughter Bumble Bee and I put together. There are also step-by-step written instructions listed below.
Step 1: Using the mushrooms as a size guide, draw two circles.
Step 2: Draw a car scene in black marker, using the circles as your tyres. Paint with watercolour paints. (But remember to leave the inside of the circles bare).
Step 3: Ask an adult to help with this bit. Carefully trim the stalks and mushroom cap of two mushrooms, exposing the gills. Place the mushrooms gill-side-down onto the blank circles. Add a few drops of water to the top of each mushroom (with a pipette if you have one, or you can just dab a few drops of water on with your fingers). Leave overnight.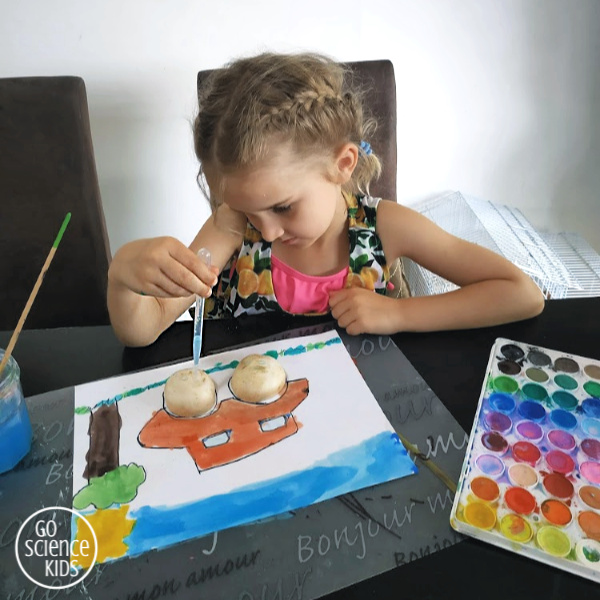 Step 4: The next morning, carefully lift your mushrooms to reveal the spore prints underneath. Spray with hairspray to set the spore prints (otherwise they can smudge).
Step 5: If you like, you can paste your car artwork onto a larger piece of paper, to act as a border. It helps it stand out.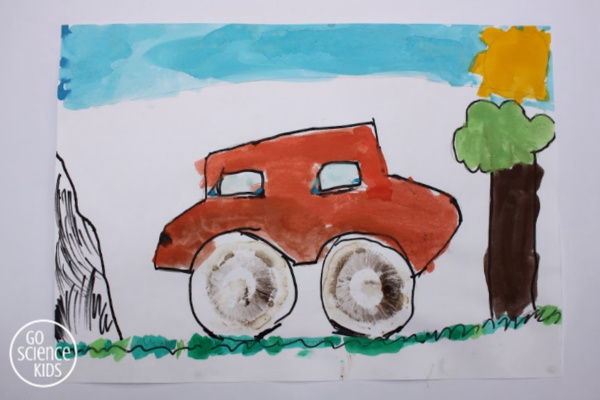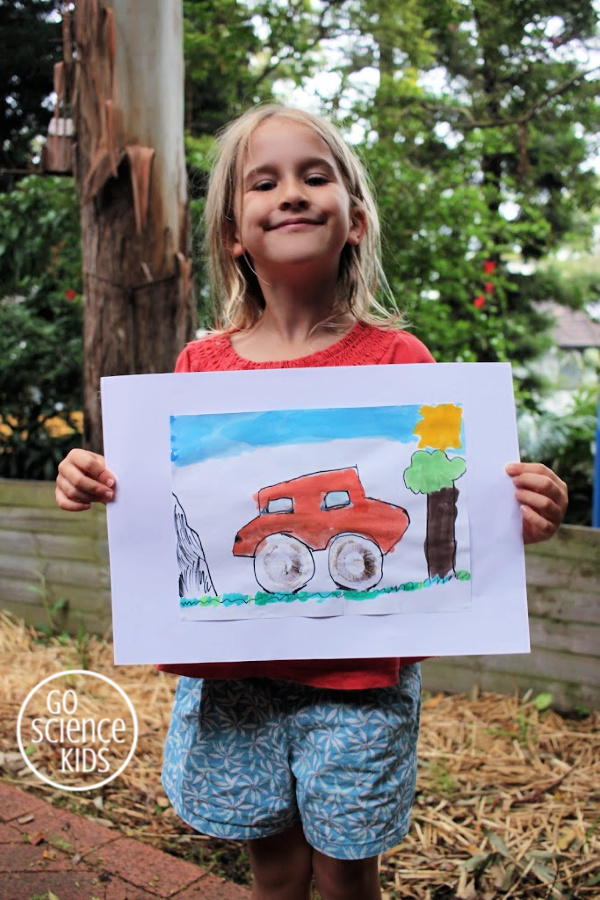 Mushroom Fun facts
Mushrooms are part of a larger group of organisms known as fungi. Fungi are more closely related to animals than to plants.
Plants contain a molecule called chlorophyll, which absorbs sunlight in a process called photosynthesis – this is how they grow. Fungi exist on decaying material, and don't need sunlight to grow.

Most mushrooms reproduce by releasing tiny spores that then germinate (sprout) and grow into a new mushroom. Mushroom spores are tiny, and can only be seen individually with a microscope. On a mature mushroom, thousands of spores can grow on just one gill!
Find more information about making spore prints from different types of mushrooms here.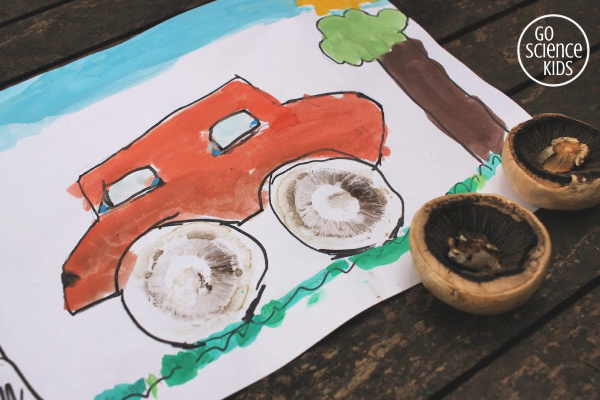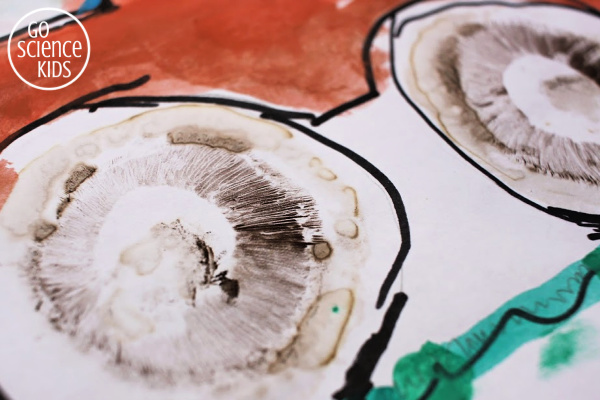 Please note…
All kids' activities on this blog require attentive adult supervision. Please be careful with kids around sharp knives. We used regular store-bought mushrooms, which are edible. If you pick wild mushrooms, please be aware that many mushrooms are poisonous, so please wash your hands carefully after touching!


You might also like to follow our Go Science Kids and Fun Science for Kids boards on Pinterest.
And, of course, you can always subscribe to our newsletter, to receive all our latest activities straight in your Inbox. We'd love to have you join us!




* This post contains affiliate link(s). An affiliate link means I may earn referral / advertising fees if you make a purchase through my link, without any extra cost to you. These fees help keep this blog afloat. Thank you for your support!